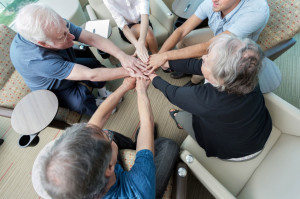 These groups are held at the Center for Independence's Albany Office.
1716 Central Avenue
Albany, NY 12205
Monday
Self-Advocacy Group (12:00 – 2:00 pm)
Citizens for Public Transportation ( 2:00 – 4:00 pm)
Wednesday
Men's Fellowship Group (12:00 pm – 1:00 pm)
We are a casual, friendly, and open group where everyone is welcome.
Whether you have specific concerns about living with a disability, or just want to find like-minded friends, this is the place for you.
Come and Join us for coffee, conversation, and connection.
Thursday
Circle's Edge Loneliness Support Group (2:00 pm – 3:00pm)
Support group participants are to meet with a staff member before attending
groups, to ensure they have selected the appropriate group.
Please call 518-459-6422 for more information!